Blog archive: 2009 entries
view latest entries
view 2012 entries
view 2011 entries
view 2010 entries
21st December 2009 New Summer exhibition space.
ELEVEN AND A HALF now has an exhibition space in Cornwall that we plan to use for two summer exhibitions in 2010. The site is a converted barn in west Penwith, about 2 miles short of Land's End. It's a great place for an exhibition of Cornish paintings - and certainly different from its last use, as a cow-shed! All that is missing at the moment is the conversion! However, a bit of hard work over the winter and it should be ready in time. Below are a couple of photos we took recently:
We'll send out details of the exhibitions we are planning to hold in Cornwall in the New Year. In the meantime Vikki and I would both like to wish everyone a very Merry Christmas and a Happy New Year.
Back to top.
30th November 2009 Exhibition finishes.
Our Inaugural Show has finished! Many thanks to all who attended, either during the week or at the Private View. It was great to see so many people there who knew the work of our artists and appreciated their work. Quite a few people commented how unusual (and pleasant!) it was to have a little bit of West Cornwall in the middle of W1. You can view a good selection of the work we showed here but below are a few of my personal favourites:
We are now busily making plans for next year. These include a couple of exhibitions in London, including, hopefully, one retrospective, at least one, maybe two exhibitions over the summer in Cornwall, and writing the biography of one of our artists. Please come back to our website or sign up to our mailing list to hear of details when they're available.
Back to top.
16th November 2009 Exhibition Opens!
Our Inaugural Show has opened! We spent a long day yesterday hanging the paintings at the Colomb Art Gallery, Marylebone, and today we're open for business. The paintings look spectacular, with Ken Symonds' eye-catching Ding Dong Mine in the window, a strong selection of everybodys' work upstairs and more in the basement gallery.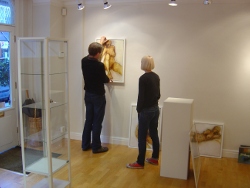 Michael Praed's series of Cornish Storm Harbours (now dry!) and his Moorings I & II (now painted!) make beatiful sets. Ges Wilson's series of female figures really stand out while John Piper's Moorland Skies is a very strong image, alongside some of his recent paintings of Cornish cottages. Vincent Wilson's collages of acrylic and paper work extremely well alongside John Emanuel's semi-abstract reclining figure, Nude. Along the back wall upstairs we have Ken Symonds' Penzance from Newlyn (which really does belong in a museum) and one of Paul Lewin's vertiginous cliff paintings. Here's a selection of photographs from the exhibition. Many more paintings are on show.
We hope to see you during the week!
Back to top.
9th November 2009 On the road.
Last week I was in Cornwall collecting paintings for our Marylebone exhibition later in the month. Many of the larger ones just wouldn't fit in our car and are travelling up later in the week. However, the majority made it - rarely before can a Mini have been so packed full with paintings! Every bump in the road (and there are a few in Penwith) was accompanied by a pop or two from yards and yards of bubble-wrap. The consequences of an accident with over twenty panes of glass on the seat behind me travelling at 70mph (or should I say just below 70mph) did not bear thinking about. Fortunately everything made it in one piece back to London.
The paintings themselves are great. Ges Wilson's series of female figures on canvas make a very strong impression. Michael Praed is, as I write, adding the finishing touches to a lovely series of six paintings of stormy Cornish harbours that perfectly capture the windswept nature of West Cornwall during the winter. John Piper's paintings include some of the dramatic looming skies of his work over the last few years as well as the more recent, heavily layered and textured cottage paintings. All of the artists have supplied us with a good variety, and some of the best examples of their work. You can see some of it here. We are really looking forward to the exhibition, and hopefully, to meeting some of you there.
Back to top.
30th October 2009 Porthmeor Studios.
Several of the artists in our group have studios with spectacular views: over Newlyn harbour (Michael Praed), across Mount's Bay to St Michael's Mount (Ken Symonds), over the moors of west Penwith towards St Buryan in one direction and Land's End in the other (John Piper). However, none has quite the same effect as the view from the studio that John Emanuel has painted from for the last 27 years. Porthmeor Studios overlooks Porthmeor beach, on the north side of St Ives. Whereas Tate St Ives (100m away) has a road between it and the beach, Porthmeor Studios is between the road and the beach. Looking out of the large picture window of John's studio, you might as well be on the beach itself.
Porthmeor Studios have a long and illustrious history. Originally built in the early nineteenth century for use by local fisherman, for the last 100 years the lofts have been used as artists studios and have housed some of St Ives' most recognised names: Borlase Smart, Ben Nicholson, Patrick Heron and Wilhelmina Barns-Graham among them. Today the studios are in urgent need of repair. When I visited John over the summer a large dustbin was rapidly filling with rain, dripping from a tarpaulin draped along one wall (rain in Cornwall in July - surely not?!). Last year the picture window blew in overnight - the studio was covered in sand when John arrived the next morning. Fortunately it seems that financial assistance is close to being at hand as recently reported in The Cornishman. Until then, John will just have to carry on emptying his dustbin several times a day.
Back to top.
16th October 2009 Private View invitations sent out.

Miners' Cottages, John Piper
Oil on board, 10in x 24in, £800

Today we sent out the invitations to our inaugural exhibition in November (16th-21st at the Colomb Art Gallery, Marylebone) and the Private View on Wednesday 18th November, 6pm-8.30pm. Post Office strikes permitting, they should arrive early next week. If you did not receive our brochure a few weeks back and would like an invitation to this exhibition, please send us your details and we'll put one in the post straight away.

John Piper will be attending the Private View. Please join us for a drink, an opportunity to talk to John about his work, and a chance to see a wide range of recent paintings by the other artists from West Cornwall in our group. We look forward to seeing you there.

Back to top.



9th October 2009 John Piper Greeting Cards

We have produced a range of six greeting cards featuring some of John's paintings of Cornish cottages. The cards are 14cm square, blank inside, come with an envelope and look great!


The cards are currently available at several galleries in Cornwall that sell John's paintings, as well as in the Penlee House Museum in Penzance. Alternatively, you can buy a set of 6 cards from ELEVEN

AND A

HALF for &pound12 (postage and packaging included). Please contact us for further details. Back to top.



2nd October 2009 Ken Symonds Oil Paintings

Today we took delivery of some of the Ken Symonds paintings that we'll be showing in our inaugural exhibition in November (16th-21st at the Colomb Art Gallery, Marylebone). I am particularly pleased to be able to show two of Ken's older oil paintings. These days Ken tends to paint exclusively in pastels and watercolours but I knew him first as a painter in oils and these are fantastic examples of his work. Here's a sneak preview:

Between Penzance and St Ives
Oil on canvas, 24in x 36in, £2500



Ding Dong Mine
Oil on canvas, 36in x 48in, £5000

Back to top.
25th September 2009 New Michael Praed Paintings
Today two new paintings by Michael arrived, ready for our our inaugural exhibition in November (16th-21st at the Colomb Art Gallery, Marylebone). Enys Dodman (the island with the hole) is a well-known arched rock just off the coast near Land's End. The Armed Knight is another rock isle a little further out. From the coastal path there is a fantastic view of these two geological features with Longships Lighthouse in the distance, just over a mile out to sea. In his painting Michael accurately conveys this dramatic scene with the wild energy of the Atlantic Ocean as it hits the Cornish coast. With the left hand side of the painting only depicting the rolling waves, it's a bold and spectacular painting.

Enys Dodman - Armed Knight
Oil on board, 24in x 36in, £2000
Michael's second painting is of Periglis, a beach on St Agnes, Scilly. St Agnes is the southermost of the Scilly isles and is a lovely island to visit. It is connected to the smaller island of Gugh (rhymes with Hugh) by a sandback which can be crossed on foot at low tide. Michael has beautifully captured the peacefulness of the Scillies as well as the shallowness of both the landscape and the sea. Both paintings can be viewed before the November exhibition by contacting us.

Periglis, St Agnes, Scilly
Oil on board, 12in x 35in, £800
Back to top.
18th September 2009 John Piper 6" square paintings
We now have available a small selection of 6" square paintings by John Piper. These simple oil on board paintings, 14" square including the frame, capture the rugged beauty of the Penwith landscape just like John's larger works. Perfect for a small piece of wallspace, or as part of a set, they are priced at £350. Please contact us for more details.
Back to top.
11th September 2009 Inaugural Exhibition confirmed
We are very pleased to confirm the dates for our inaugural exhibition. This will be held between 16th and 21st November 2009 at the Colomb Art Gallery, Marylebone, London. It will feature paintings by John Emanuel, Paul Lewin, John Piper, Michael Praed, Ken Symonds, Ges Wilson and Vincent Wilson. There will be a Private View on Wednesday 18th. We'll send out invitations to the Private View in late October. If you'd like to receive one, please sign up to our mailing list. Further details of the show will be posted on our events page.
Back to top.